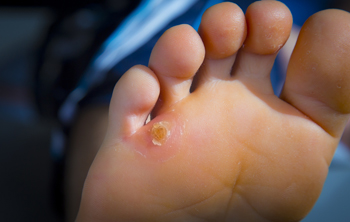 When frequent rubbing occurs on your feet or toes, corns may develop in response to the friction. Such friction is usually caused by tight or ill-fitting shoes that rub against the feet. The corns are similar to calluses and usually create hardened patches of skin at the sight of the friction. In some cases, corns on the feet and toes may bleed and even cause discomfort. Fortunately, many instances of corns on the feet can be solved with a quick fix—simply not wearing the shoes that cause the friction to occur and opting for better-fitting footwear. Some individuals might even wear a protective pad around the corn while it is healing to ensure that it will not rub against anything and exacerbate the toughness of the skin. While these at-home remedies have proven effective, some individuals with corns may need further medical attention. For example, further complications could arise for those with diabetes or who experience numbness in the feet. Continuing to experience pain and inflammation at the sight of the corn may also be a sign to reach out to a medical professional. While corns do not usually pose a significant health threat, knowing the causes of this condition and being able to care for it can help you lead a healthier life for your feet.
Corns can make walking very painful and should be treated immediately. If you have questions regarding your feet and ankles, contact one of the podiatrists of Ark La Tex Foot & Ankle Specialists. Our doctors will treat your foot and ankle needs.
Corns: What Are They? And How Do You Get Rid of Them?
Corns are thickened areas on the skin that can become painful. They are caused by excessive pressure and friction on the skin. Corns press into the deeper layers of the skin and are usually round in shape.
Ways to Prevent Corns
There are many ways to get rid of painful corns such as:
Wearing properly fitting shoes that have been measured by a professional
Wearing shoes that are not sharply pointed or have high heels
Wearing only shoes that offer support
Treating Corns
Although most corns slowly disappear when the friction or pressure stops, this isn't always the case. Consult with your podiatrist to determine the best treatment option for your case of corns.
If you have any questions please feel free to contact our offices located in Shreveport, Bossier City, and Natchitoches, LA . We offer the newest diagnostic and treatment technologies for all your foot and ankle needs.
Read more about Understanding Corns and Calluses